Athletes of all stripes need inspiration and motivation to make the most out of their sport. Inspiration makes conquering difficult training and challenging races possible; all the energy gummies in the world can't overcome a lack of motivation or inspiration. Here at Seattle Gummy Company (SGC), we want to inspire you with a story about an out-of-the-ordinary athlete, who's not so different from you. Cyclist Nikki Rohan is the type of athlete who motivates us to push beyond our comfort zone with her energy and perseverance. We also talk to her about her tips for new riders, what she eats before a race, and her favorite gear.
Nikki has been mountain biking for nearly 20 years, including a short stint competing in the pro women category in enduro races in the PNW, as well as events like the Trans BC, the Trans-Provence, the Downieville Classic, Grinduro, and the occasional CX race. Nikki Rohan resides in Hood River, OR with her husband, Colin Meagher, her two kids, a dog, and a grumpy cat.
What was the most challenging ride/race you have ever done, and why? How did you overcome the challenge?
NR: The most challenging race I ever did was the TransProvence enduro-style stage race in the Maritime Alps in France. 6 full days of racing with 5K+ feet of climbing each day, huge descents, and endless switchbacks that got the best of me. After the first day of racing, I honestly didn't think I had it in me to finish the race. I was exhausted and overwhelmed by the thought of five more days, but I had trained hard, and I decided just to find the pace that would allow me to finish. Each day got easier, and by the time we got to the last stage of the final day, I had a flask of whiskey stashed in my pack to celebrate the finish line… we also ended the race by riding through the city of Menton and jumping into the Mediterranean Sea.
How do you get energized for a ride? How do you fuel your body before, during, and after to perform your best?
NR: I try to focus on my training rides in the mornings when I have the most energy. While I ride 2-3 days a week after work (I have a full-time 8-5 job), those rides are usually shorter and require less planning. The night before a big ride, I tend to plan a fairly balanced dinner: a serving of lean protein, lots of veggies, and a small serving of rice or bread. Morning meal: eggs, sweet potato, spinach, and sometimes (shhh, all the time)… a slice of bacon, and then 2 SBC Power Up Pre-workout gummies right before I head out. During the ride, I try to eat 100 calories an hour. I have eaten so many bars over the years that I honestly prefer a tortilla or the whitest bread I can find topped with banana slices or dates and some type of nut butter. I also bring dried fruit, nuts, jerky, and always a big supply of energy gummies with and without caffeine, like the SGC Mocca Shots paired with the Power Up gummies.
How do you recover from a particularly strenuous ride?
NR: Within 30 minutes of finishing a big ride, I will typically eat 2 of the SGC Recover gummies, followed by a shower and then a decent meal like a sandwich or big salad loaded with protein, with a Pfriem Pilsner on the side.
How did you get into biking?
NR: Growing up, I always had some type of bike around to ride. I had three older sisters, and my dad taught us all at a young age how to pedal without training wheels. I also remember riding to elementary school with friends, and we spent endless summers exploring the small town I lived in. In my teenage years, I was more into horses and motorcycles, but the pivotal point in my life where bikes came back into play was when I went to college in Seattle without a car. I learned quickly that riding my bike on campus got me places faster than my feet. During my second summer in college, I had started dating a guy who was an avid mountain biker. From that point forward, I was hooked.
When did you start racing?
NR: I didn't race competitively until after I had kids. My first "enduro" mountain bike race was at Sea Otter Classic in 2014. I raced enduro competitively for about five years, and then after some life events, I decided to re-focus racing on some other disciplines like cyclocross and gravel.
You have a lot of bikes! What kind of biking do you do, and what is your favorite?
NR: I do all types of biking, but I spend most of my time on a full-suspension mountain bike. I love riding singletrack trails and exploring new areas. Last year when covid shut down all our trails, I started exploring gravel roads in our area on my "gravel" bike, which is like a road bike with some adjustments to handle the off-road surfaces.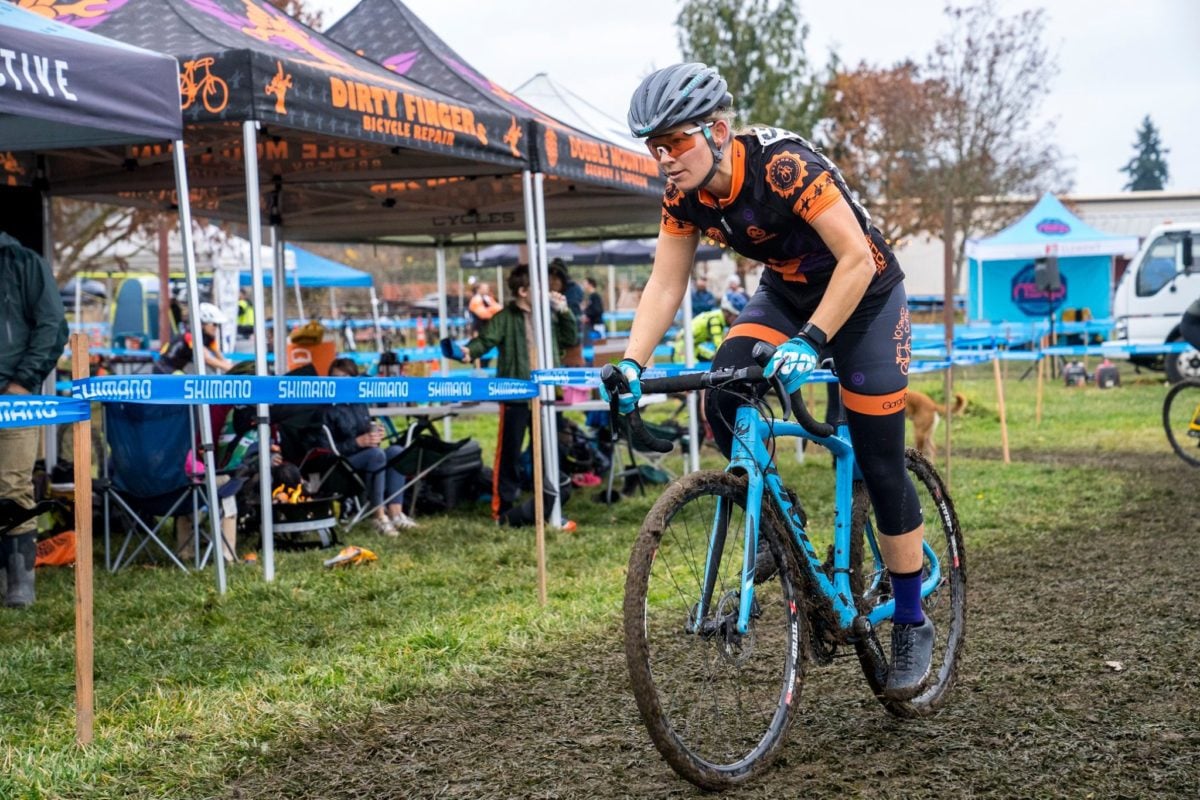 What is your favorite trail?
NR: My favorite trail of all time? Hmmm, that's a tough one. Probably Thunder Mountain outside of Bryce Canyon National Park in Utah and Angels Staircase in eastern Washington. I could add ten more to this list if I had to.
Mountain biking involves a lot of gear; what is the most helpful piece of equipment you have found in the past year?
NR: Without a doubt, put the time and energy into choosing a saddle that fits you right. Go to a local bike shop and measure your sit bones for sizing, and then start to ask your friends what they like or look for reviews on the Google webs.
Do you have any tips on where to start for someone just getting into mountain biking? What to buy, how to find the right gear, what trails to ride?
NR: Take a lesson! It's easy to pick up bad habits, so the best advice I can give someone just starting is to contact a bike coach to help you get started. They can direct you to the right gear, where to ride, and most importantly, how not to get injured. Maybe this coach is someone you find on a local Facebook mountain biking group, maybe they are your best friend, or maybe they are your soon-to-be girlfriend.